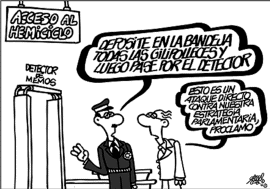 When I say "Other people's poetry" I mean "other people's art". I adore Forges. It's a family tradition, I think. His cartoons are very much culture-specific so it's not just a question of translating words but of expressing stuff that you wouldn't understand if you had not in Spain for the last months or years.
This one expresses wonderfully well the impression that I'm getting from the Spanish conservatives as I read what they do on online newspapers:
NOTICE: ACCESS TO PARLIAMENT. FOOL DETECTOR.
Security guy: Place all bullshit on the tray and then pass through the detector.
Conservative Politician: This is a direct attack against our debating strategy, I swear!