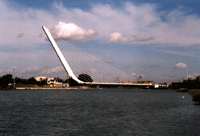 I have a week of holidays and I'll be in Washington until Wednesday, so don't expect any updates in a few days. These days are important in my hometown, so rather than talking about the hows and whys here you have (again) a poem about it.
El Río de Norte a Sur (para ciudades que tengan el norte a la izquierda).

1.
"Presos del suelo",
Me envidian si patino.
¡Mira cómo vuelo!
(Grafitti anónimo en el puente de Chapina)
"Prisoners of the ground"
They envy me when I skate
Watch me fly!
2.
Sobre el río, paz verde,
Cruzan tres flechas.
Piraguas blancas.
On the river, green stillness,
Three arrows crossing.
White kayaks.
3.
Los siete puentes
abrazando la ciudad,
a todos nosotros.
Our seven bridges
Hugging the city,
hugging us all.
4.
Jardines del Cristina.
Mi abuelo no está.
Pero yo sí.
Cristina Gardens.
My grandfather's gone.
But here I am.
5.
Niebla y gorrillas.
Siete de la mañana,
Lunes de frío.
Beggars on heroin.
Fog, seven a. m.
As cold as Mondays can be.