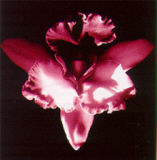 Yesterday I told my friend Lino about the existence of Queer Studies and Gender Studies departments in American Universities. He was culture-shocked, which is unsurprising. Not to repeat myself more than necessary, my opinion on the existence of Queer Studies is on a very difficult balance between two dilemmas:
=>One: The difference between studying someone because they are excellent (and they also happen to be queer), or to study someone because they are queer (who the hell cares if Mary Dorcey is a lesbian? her poems are unoriginal and mediocre).
=> Two: Giving too much importance to the reflection that an artist's sexual orientation has on their work (Michelangelo was inspired by the gods, period), or ignoring it when it's actually relevant.
In any case, dedicated to Lino, here is a photo from
Robert Mapplethorpe
and an extract from Written on the Body by
Jeanette Winterson
. The translation, as usual, is mine.
THE SKIN IS COMPOSED OF TWO MAIN PARTS: THE DERMIS AND THE EPIDERMIS.
Odd to think that the piece of you that I know best is already dead. The cells on the surface of your skin are thin and flat without blood vessels or nerve endings. Dead cells, thickest on the palm of your hands and the soles of your feet. Your sepulchral body, offered to me in the past tense, protects your soft centre from the intrusions of the outside world. I am one such intrusion, stroking you with necrophiliac obsession, loving the shell laid out before me.
LA PIEL SE COMPONE DE DOS PARTES PRINCIPALES: LA DERMIS Y LA EPIDERMIS.

Qué raro es que la parte de ti que mejor conozco ya esté muerta. Las células en la superficie de la piel son finas y planas, y no tienen vasos sanguíneos ni terminaciones nerviosas. Células muertas, en una capa más gruesa en la palma de las manos y en la planta de los pies. Tu cuerpo sepulcral, que me ofreces en pretérito, protege tu centro blando de las invasiones del mundo exterior. Yo soy una de esas invasiones, acariciándote con obsesión necrofílica, amando la concha que se extiende ante mí.